Hire Boat rentals with Captain or take a Bottom Fishing Charter on Grand Bahama
Come to the Bahamas!

Boat Rentals in Grand Bahama
Call or email for reservations:
captdeno@bahamasvacationguide.com
(242) 464-2569 or (242) 373-2268
US 860-781-7100

CAPTAINED BOAT RENTALS
Captained boat rental on the island of Grand Bahama (Freeport) is offered by Vacation WaterSports offering 19' boats. Let Captain Deno, a friendly and service orientated Bahamian, take you on your day of fishing, snorkeling or pleasure touring. Don't visit the Bahamas and fail to see our oasis from the water! And better yet, see it through the eyes of a Bahamian as well.
Boaters can take a half or full day captained boat rental and explore unspoiled beaches, a private cay, vibrant reefs for snorkeling, unpopulated and beautiful areas on Grand Bahama Island, as well as our best trolling or deep sea fishing spots. We will deliver the boat to any local dock in the greater Lucaya area for pick up of guests.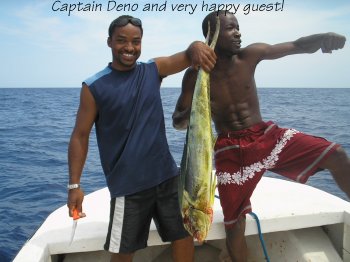 Inexperienced boaters can hire the boat with a personal, Bahamian captain to help you really experience the true-true Grand Bahama Island.
Tour the waterways and well-to-do waterfront properties.
Half day or full day captained charters are available.
Vacation Watersports Boat Rental Rates:

Half Day with Capt
$200.00
Full Day with Capt
$350.00

Outboard oil and fuel not included
(Fishing rods, tackle, snorkeling gear, available to rent)

Hourly rates are available
GRAND BAHAMA BOTTOM FISHING TRIPS
Half day (3 hours) bottom fishing charters for three person minimum. Can fish 4 adults. Personalized service, rods and bait. $55.00 per person. Avoid crowded Freeport, Bahamas charters, and enjoy a more private Grand Bahama fishing excursion with Captain Deno. Fishing is between 10 to 40 feet.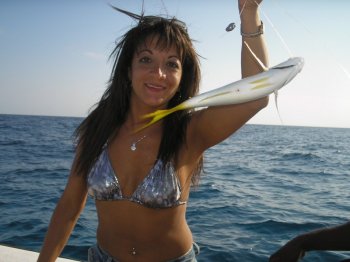 We at Vacation Watersports will go out of our way to ensure your satisfaction.
Also available for CAPTAINED BOAT RENTALS

27ft Boston Whaler ( Max People 8)
Half day $395.00 Full day $595.00

31ft Ocean Master (Max People 12)
Half day 495.00 Full day $695.00
Call or email for reservations:
captdeno@bahamasvacationguide.com
(242) 464-2569 or (242) 373-2268
US 860-781-7100
FOR BOAT RENTALS
For larger captained boat rentals try Exotic Adventues Freeport Bahamas Boat Rentals
Private luxury condos available around the corner from beach and tourism centre! Pick up dock for your boat rental is right there! - Hampton Court Vacation Rentals!
Hungry? Want to go to a neat bar on the beach? Enjoy Rake n Scrape with a live local band on Thursday and Saturday night at Bikini Bottom bar and grill. Dance under the stars!

Back to Bahamas Vacation Guide Home Page