Glassbottom Boat Cruises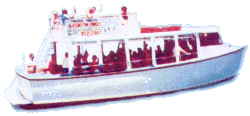 Cruise through the crystal clear waters and view the spectacular Grand Bahama coral reefs, home to thousands of tropical fish and living coral. From the ocean you will see Cooper's Medieval Castle perched high on a hill in Freeport Bahamas, and then you will look down and see Theo's Ship Wreck ; a 233 ft. ship resting in 100 ft. of water on the ocean floor. It is constantly guarded by a wide variety of marine life. Here, you will help the captain feed the tropical fish before returning to port.
$30 Adults $15 Children under 12/under 3 Free.
Daily 10:00 a.m., 11:30 a.m.,
2:00 p.m. and 3:30 p.m. - 1.5 hrs.
Reef Snorkeling Cruises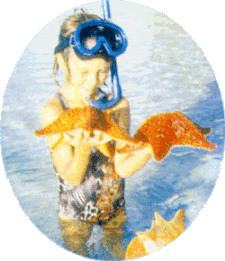 Put your snorkel mask on, and enjoy some of the prettiest sights you'll ever see! Watch the multi - colored tropical fish dart amongst the beautiful coral reefs while you float on the surface in amazement. The experience is unforgettable, don't miss Grand Bahama snorkeling! All equipment, instructions, and life jackets provided free of charge.
$35 Adults $18 Children under 12.
Daily 10:15 a.m., 12 noon & 2:30 p.m. - 1.5 hrs.
Waverunners



Enjoy our Yamaha Waverunners as you skirt over the aquamarine waters off the south shore of Grand Bahama Island.
$60.00 per person for 30 minutes.
$100 cash or credit card deposit required.
Deep Sea Fishing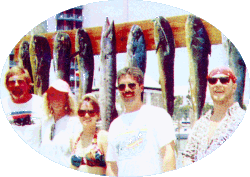 Looking for the big hit? Well, you're in the right place, Grand Bahama offers excellent fishing! Troll through the Bahamian waters with our experienced crew in search of tuna, wahoo, mahi-mahi, blue marlin and others. Our boats are fully equipped, and all bait and tackle is included. No experience necessary. Half day, full day, and private Freeport Bahamas charters available.
$90.00 per person for 4 hrs.
Reef Fishing
Experience the many varieties of reef fish in Freeport Bahamas' beautiful tropical waters. You'll jump when the fish jump! No experience necessary. Bait and tackle included.
$45.00 per person for 3hrs.
Parasailing



Feel the rush and exhilaration while you soar to new heights, looking over Grand Bahama Island. No effort is required. Just relax and enjoy the panoramic view.
$60.00 per person
Sunset Cruise



As the sun sets on another wonderful day in paradise, raise a glass of cheer with free Bahama Mamas and snacks and enjoy relaxing island sounds aboard our Grand Bahama sunset cruise.
$30.00 per person for 2hrs
Banana Boat Rides
$15.00 per person
$10.00 per child